The Micro Debt awarded at the EU Commission
Posted on Dec 10th, 2011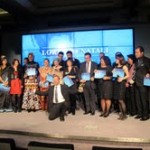 A fantastic surprise. I knew that we would win the Special TV Prize at the Lorenzo Natali Prize ceremony which took place on December 8.th in Brussels, but we were blown away when the speaker announced that "The Micro Debt" was awarded The Grand Jury Prize in competition with 1.300 journalistic projects from all over the world.
When we arrived in Brussels the day before we met with the other 17 winners in the various cathegories and we had a great time exchanging ideas, stories and networks. Solid projects and great stories from as far away as Chile, China, South Africa, Iraq, Cameroun, India, Tyrkey and Belgium etc. Amazing stories - amazing people - amazing that we were there as well.
The honor of winning the Grand Jury Award was even bigger when the organizers told me, that I am part of the jury next year. Looking really forward to see, listen and read new fantastic investigative stories from around the world.
Leave a Reply