The dark side
Posted on Jan 21st, 2012
A personal comment published in "The African Report" on January 21. 2012
By: Tom Heinemann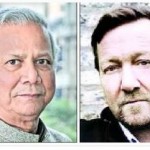 In December 2007, we met with a woman by the name of Jahanara - living in a slum-like house two hours drive outside the Bangladeshi capital, Dhaka. Shortly before the meeting she had sold her house to pay her weekly installments. For months, she had been intimidated, harassed and abused by members of her loan group and loan officers from various Micro Finance Institutions (MFI) - including the Grameen Bank - who had provided her with loans. This was, in fact, the first encounter my team and I did in a year-long research on Microcredit. In 2010 we went back to investigate whether Jahanara had succeeded in hauling herself out of poverty. She had not. Not at all.
"Not all that glitters is gold"
The meeting with Jahanara was only the first in a long string of interviews with poor people in Bangladesh, Andhra Pradesh in India and in the state of Oaxaca in Mexico. The Microcredit loan-takers told the same story over and over again: Most of them had taken loans from various NGO's and Micro Finance Institutions - and many had taken new loans to cover old ones. They were paying annual interest rates ranging from 30-200 percent and under extreme social pressure from other members of their groups. The cruel and rude behaviour of some of the loan officers when they defaulted a single weekly payment added even more pressure. Our investigative film coverage also highlights interviews with renowned Microfinance experts such as Thomas Dichter, Milford Bateman, Alex Counts, Jonathan Morduch and David Roodman, among others.
A Nobel banker
"The Micro Debt" takes a closer and critical look at the 2006 Nobel Peace Prize laureates, Grameen Bank and Muhammad Yunus. The film reveals a number of secret documents proving how Yunus, back in the mid-90's, transferred $ 100 million - most of which were grants or donations from Norway, Sweden, Germany, USA and Canada - to a new company in the Grameen-family to save future taxes. 12 years on, and for the first time, the public has come to terms with what really happened to the taxpayers' money.
The rise and fall
During the long research, we consistently tried to get an interview with the "father of Micro credit", Mohammad Yunus. In 2001, Daniel Pearl and Michael Phillips wrote the very first critical articles on Grameen Bank and Mohammad Yunus, which led to a series of mails between Pearl and Yunus.
However, the interesting thing about Yunus is that he never felt the need to answer critical questions about his operations. The one exemption was in fact a Wall Street Journal (WSJ) article back in 2001. Since then, Yunus has refused to stand up to any critical journalist.
For more than 4 months we tried to get answers from Yunus on all critical points raised in the film, to no avail. We even tracked him down to Valencia in Spain, but he declined our invitation and missed a chance to give his opinion.
And when the Norwegian version of the film was released, later followed by the international version: "The Micro Debt", it was too late for Yunus to rethink his strategy.
Hardly any newspaper or news broadcaster around the globe missed commenting about the film, whose release saw the emergence of a bitter fight between the government of Bangladesh and Yunus.
In a recent interview with the Norwegian media, under the heading "Yunus axes NRK", Mohammad Yunus described how the film had caused his departure as head of Grameen Bank. For now, nobody knows his career plan. However, being close friends with some of the most influential people including the Clintons as well as some kings and queens one is led to believe that he will pull through.
The Challenge
One of the biggest challenges in doing a story like this is that hardly anyone trusts your arguments even if they are backed by proof from research. Friends and colleagues struggled to understand the dark sides of Micro credit, as a result of having been presented with "smiling faces" on numerous websites hailing Microcredit for years.
But after digging even deeper and identifying scientists and academic researchers around the globe, who for years have warned against the idea of the "silver bullet" and argued that there was no academic proof that Microcredit had eradicated poverty, I knew that the Microcredit story had to be investigated.
The empire strikes back
In the aftermath and over the last three or four months, I have come to realise what powerful forces I am up against. The US-based Grameen Foundation has launched a World-wide campaign in a bid to intimidate me in a way I have never seen before. Burson-Marsteller and the law firm Clifford Change have been hired whilst so-called "independent" filmmakers have begun retracing my footsteps in an effort to question the documentary film. Scandinavian broadcasters have received "complaint-letters" about me and the film but my various editors have rejected all those claims.
Leave a Reply