Blacklisted by Yunus
Posted on Feb 1st, 2013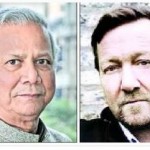 By Bo Elkjær
(Story from www.journalisten.dk)
Nobel Prize Winner Muhammad Yunus was allowed to reject being interviewed by freelance journalist Tom Heinemann, on behalf of Denmarks Radio, when he was interviewed in connection with a conference in Copenhagen. "It is a mistake that we did not declare it on the air," says editorial director at Program 1, Judith Skriver. "I was quite stunned," says Tom Heinemann.
"No". That is how short the response of Nobel laureate Muhammad Yunus was when asked if Danish Radio's program "P1 Orientering" could send freelance journalist and documentary filmmaker Tom Heinemann to interview him in connection with a Danida-organized conference in Copenhagen on Monday.
Muhammad Yunus was invited to Copenhagen by Danida's Information Committee and the Federation of Danish Industries.
Tom Heinemann has previously made a critical documentary about Muhammad Yunus and the micro-loan project, which led to the Nobel Peace Prize. Because of the critical documentary, Muhammad Yunus has refused to talk to Tom Heinemann for the past two and a half years.
The radio program "P1 Orientering" accepted Muhammad Yunus refusal to be interviewed by Heinemann and instead sent another journalist to do the job.
Was to be confronted with blacklisting
Since the interview could not be done by Tom Heinemann as foreseen, it was instead agreed between Tom Heinemann and "P1 Orientering" that Muhammad Yunus during the interview should be confronted with his blacklisting and directly asked why he would not meet Tom Heinemann.
This question was included in the interview that was edited into "P1 Orientering". It was also agreed that Tom Heinemann would be a guest in the broadcast, where the Yunus interview was to be sent – and then Mr. Heinemann would be given the opportunity to comment on his blacklisting.
It went very wrong.
"I'm in the studio, when I hear the interview with Yunus," says Tom Heinemann to journalisten.dk.
"I am quite stunned when I hear that the issues we have agreed upon beforehand are gone from the program. This is a live radio show. The agreements made both Friday and Monday - are gone. It's not even part of the presentation. "
"So I tell the listeners that I was hired to do the interview with Yunus, but that he would not meet me. So I ask, is it Yunus or "P1's" staff who edit this program. "
"The anchor in the studio then replied that we should discuss this in another program. Now, I do not have access to all sorts of programs in National Danish Radio and
I think it's a fundamental discussion. Therefore I said it, now that I had the chance. Regardless of how much power people have in the world - whether it is the emperor of China - it's not them who should decide who are sent to do an interview, "says Tom Heinemann.
"It's peoples own decision if they are prepared to stand up or not. But we should not just be obedient, and send someone else. "
A slippery slope
"When he does not want to meet us, we must ask: Should he then be allowed to meet anyone? Should he be allowed to decide which journalists he wants to talk to? Then we are on a very slippery slope. Because you are literally barred from asking any type of critical questions that may have a little edge or bite. Yunus will avoid to meet someone who - sorry to even say this - knows something about this issue", says the banned journalist.
Tom Heinemann was originally contacted by Denmarks Radios program "P1 Orientering" on Friday to see if he could be hired to interview Muhammad Yunus and cover the conference Yunus participated in. Tom Heinemann said yes, but pointed out to Denmarks Radio that Yunus most likely would not be willing to do the interview.
Friday afternoon "P1" called back to Heinemann and confirmed that Yunus had said no. Instead, it was agreed that Tom Heinemann would attend the conference for "P1" on Monday. Later he would be live in the studio and get the opportunity to talk about why Muhammad Yunus refuses to meet with the Danish documentary film maker.
The actual interview with Yunus took place early Monday morning before the conference.
Would like to cover the controversy
The editor at "P1", Judith Skriver confirms the process and confirms that they had hired Tom Heinemann to do the interview with Yunus.
Judith Skriver regrets that "P1 Orientering" did not properly say on the air that Tom Heinemann had been blacklisted by the Nobel Prize winner.
"We made the mistake of not explaining (on air) what was actually agreed upon at the editorial meeting and that we originally had wanted to send Tom to do the interview with Yunus for "P1 Orientering", but that Tom was rejected by Yunus".
"We wanted to cover the controversial part of Yunus. The listeners will still sit and think this. However we cannot isolate our reporting to only cover the conference. That is why we discuss how we can do it best. "
Judith Skriver says, however, that "P1 Orientering" initially planned to send another journalist on assignment to cover the conference and interview Yunus. This is the journalist who arrange it with the organizers of the conference. Because of workload the journalist should not make the interview. After this, the decision to hire Tom Heinemann was made.
"We wanted to hire Tom Heinemann as a journalist for "P1 Orientering". He knows the story from front and back. But Yunus says no, "says editorial director Judith Skriver.
Errors occur on the fly
"We turn it over four times, and say: Well, then we go back to Plan A. We put the original reporter to do the interview, as she was subscribed to do so on Thursday and back her up in various ways. And we invite decided to invite Tom Heinemann in the studio because we still want to cover that side of Yunus as well and because Tom Heinemann is the person who knows most about this topic. Tom will actually get minutes to give his take on who Yunus is as a person and what to put in his greatness".
"All together I think this is a fine and decent package. We made one mistake and Tom made one. We should have declared what we did and what we are doing. This is an error that happens on the fly. It was our intention to explain the events during the interview, but Tom´s lid goes off, as he did not get this as his first question, which he probably should have had. In hindsight and the unbearable bright lights, he should have had that question first off. Off course he should have had that question. He would also have had it later, but his lid went off during the first question. "
"The mistake we made is that we did not declare what kind of situation we were in. We had Tom inside the studio and the whole side of the coin is covered quite well. Tom makes the mistake that his lid goes off. And he sends a stinker our way because the listeners will have no idea what this is about. He takes an internal editorial discussion into an open microphone. "
Was Muhammad Yunus asked why he would not meet Heinemann?
"Yes he was. We have this on tape. It's super annoying that it was not used. He was asked and he was somewhat tight-lipped over this. He replied that it would derail the debate, he would like to talk about at the conference, he did not think it would be about a documentary film. But he has actually gotten the question and he replied. We could have aired it. "
The matter was discussed internally at "P1" both on Friday, Monday and Tuesday, Judith Skriver confirms.
"I made it clear that we have made a mistake, that we did not declare clearly why Tom Heinemann was sitting in the studio."
But should you not have said to Yunus: "It is us who decide who interviews you"?
"Yes, but we had reported another journalist to come. Of course it's not him who decides. But it was not like he said; I will speak with one, not with the other. "
But in principle: Shall we accept this kind of external editing?
"But he did not edit the program. We had a critical interview with Yunus. We gave eight minutes of airtime to Tom. "
Yunus said he would not meet Heinemann?
"Yes, yes, yes. But he was not editing our program. We have done that ourselves. We maintain the critical angles. We cover them in a different way. Yunus is not allowed to decide that. He must not deter us from a critical angle. We maintain the critical angle. We just do it the way we can. "
And so you do not explain that to listeners when Tom Heinemann is presented in the studio?
"It might have been nicer to say it at the beginning."
But isn't there indeed a fundamental discussion on wheter sources should be allowed to decide which journalists will interview them?
"I find that they normally should not. And he should not. In this case, we had a journalist who had the appointment. We chose Tom Heinemann because we wanted to have a qualified coverage and our reporter did not have time to read up on it. "
But I have to say this: Yunus declines to be interviewed by Tom Heinemann and then you can react in different ways to it.
"We say it will not stop us from covering the conference as we had originally planned. It doesn't stop us from making a critical angle of Yunus. There we have Tom Heinemann in the studio. "
The question of whether sources should be allowed to select journalists, did you discuss this?
"Yes, yes it is obvious. We are very concerned about our profession, how we act, how we cover it, so of course we have discussed it. "
Have you reached any conclusions?
"No, nothing more than I say: The sources does not edit "Orientering" We do this.
We will not let sources edit our program. It's not going to happen, "says Judith Skriver.
"He (Tom Heinemann) is an accomplished journalist which we happily work together with. That we made a mistake and that he overreacts does not change the fact that we think he is a talented journalist. He knows some things that are valuable. "
Leave a Reply