New Film: "Caught in Micro debt"
Posted on Nov 28th, 2010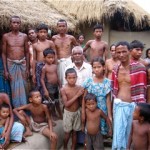 On Tuesday November 30. our new film has world premiere. Watch it here (from 30/11 evening)
Give the poor a small loan - a so-called microloan so they can start a small business and lift them out of poverty.
For decades the Nobel leureates, Mohammad Yunus and Grameen Bank has been hailed for giving the poor a small micro loan to lift them out of poverty. The system has been copied all over the world.
But does microloans really help the poor and why did the Norwegian aid agency, Norad who donated millions of Dollars to Grameen Bank kept numerous documents secret ?
The film crew travelled extensively in Bangladesh meeting scores of poor micro loan takers and economists and development researchers like Jonathan Morduch, David Roodman, Milford Bateman and Thomas Dichter tells another side of the glamorous story on Microcredit.
The documentary is the Norwegian version of an international edition that will be available in the beginning of January.
Leave a Reply