Rumble in the Jungle
Posted on Feb 24th, 2011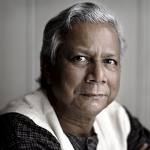 Things are mounting up for Grameen Bank and it's founder, Mr. Yunus.
A whistleblower - close to the inner circles in the Bangladeshi government - has released some very interesting documents. According to the source, other foreign governments have already received the documents
Within hours it has started to spread, and on the up-coming board meeting, well described i a Guardian article the other day, it seems that they have a lot to talk about!
And yesterday, February 23. our film was aired in special Swedish version at national Swedish television. Watch it here (only Swedish) and follow the debate and articles here (only Swedish).
Leave a Reply